Product Details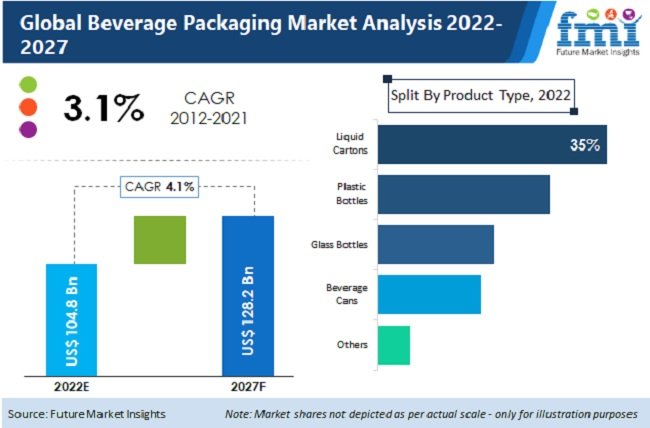 (Click to enlarge image) The beverage packaging market is anticipated to register a CAGR 4.1% in terms of value during the forecast period of 2022-2027

Beverage packaging manufacturers have witnessed an increasing demand for smaller pack sizes, which has led to a rise in demand for beverage cans, as they are convenient for carrying. However, rising awareness regarding sugar content in soft drinks, and the resultant health effects has led to a meteoric increase in the consumption of bottled water in the beverage packaging market. In the beverage packaging market, brand owners in developed countries such the U.S. have been quick to capitalize on this growing demand and offer seasonal flavoured water, such as chocolate peppermint.

High consumption of alcohol in developed and developing economies is expected to bolster the demand for beverage packaging, especially beer bottles and beverage cans, during the next ten years. High demand for flavoured alcoholic beverages, wine, soft drinks, and energy drinks are expected to bolster the sales of beverage cans in the beverage packaging market.

Beverage Packaging Market: Landscape

Crown Holdings, Inc., Amcor Limited., Ardagh Group S.A., Ball Corporation, Gerresheimer AG., Owens-Illinois, Inc., Berry Global, Inc., Beatson Clark Ltd., Intrapac International Corporation, BA Glass Germany GmbH., Nampak Ltd., Vidrala S.A., Silgan Containers LLC., Mahmood Saeed Beverage Cans & Ends Industry Company Ltd., and Orora Packaging Australia Pty Ltd.