Product Details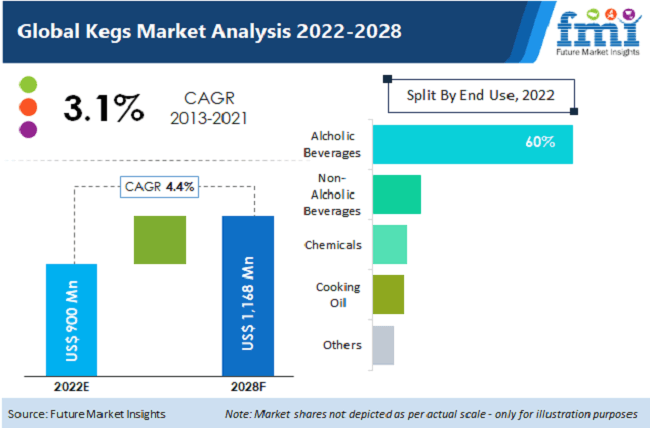 (Click to enlarge image) As per a recent market analysis by Future Market Insights, the global kegs market, which was valued at US$ 900 Mn in 2022, is estimated to expand at a CAGR of 4.2% during the forecast period 2022-2028, reaching the value equating US$ 1,167.6 Mn by 2028. Extensively used for the safe transportation of alcoholic beverages and non-alcoholic beverages, in 2017, the alcoholic beverage industry accounted for more than 60% of the global kegs market.

Moreover, the global consumption of steel kegs, in terms of units, for storage and shipment of beer is projected to remain at an all-time high through 2028, considering it to be the most appropriate, cost-effective and reliable for fermented beverages, also ensuring preservation of original taste and organoleptic characteristics. Lucrative commercial avenues associated with draught beer consumption, is expected to favorably impact the global kegs market in the coming years.

A Highly Consolidated Kegs Market Driving Global Pricing; Substitutes like Eco-Kegs Likely to Smoothen Pricing

Key players in the global kegs market American Keg Company, NDL Keg Inc, Shinhan Industrial Co, Ltd, Ningbo BestFriends Beverage Containers Co. Ltd, Blefa GmbH, Schaefer Container Systems, Petainer UK Holdings Ltd, Ardagh Group S.A, Julius Kleemann GmbH & Co KG, The Metal Drum Company.